The Buddha's Birthday in Hong Kong is a major holiday, and the most important day for Buddhists around the world. In this article, you'll learn about Buddha's Birthday traditions, the prevalence of Buddhism in Hong Kong, and pick up some new vocabulary along the way.
Let's get started!
1. What is the Birthday of the Buddha?
This is the most important day in 佛教 (fat6 gaau3), or Buddhism, and it's a time for people to reflect on the Buddha's teachings, show respect to ancestors, and work on bettering themselves.
The main purpose of celebrating Buddha's Birthday is to remind people to use the Buddha's wisdom to wash away the pollution of the inner self and to purify the mind. In particular, Buddhism's code of ethics guides people to 行善 (hang4 sin6), or "do good deeds," and elevate the human spirit realm. It also acts as an important force in establishing a harmonious society.
Due to the prevalence of Buddhism in Hong Kong, the government made the Buddha's Birthday a public holiday in 1998. This allows students and workers to fully participate in the activities and worship rituals, and promotes the further growth of Buddhism here.
2. When is Buddha's Birthday?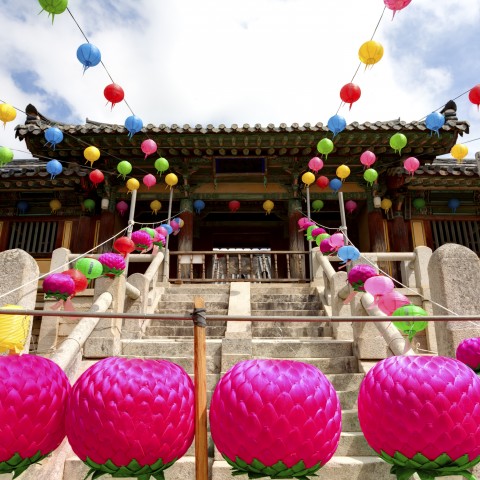 This holiday takes place on the eighth day of the fourth month of the lunar calendar, meaning that the date of Buddha's Birthday celebration varies from year to year on the Gregorian calendar. For your convenience, here's a list of this holiday's date for the next ten years.
2020: May 7
2021: May 26
2022: May 15
2023: June 2
2024: May 22
2025: May 12
2026: May 31
2027: May 20
2028: May 9
2029: May 27
3. How is Buddha's Birthday Celebrated?
On the Birthday of the Buddha, Hong Kong temples and monasteries hold special ceremonies and liturgy in honor of the Buddha. The grandest of these is the Po Lin Monastery on Lantau Island, which is considered a holy place for Buddhists.
Here, you'll find the 天壇大佛 (tin1 taan4 daai6 fat6), or Tian Tan Buddha. This is one of the tallest outdoor bronze sitting Buddhas in the world, and the altar beneath showcases his 舍利子 (se3 lei6 zi2), or "relic." There are many Chinese-style buildings in the area, making this a great place for sightseeing.
Buddha's Birthday traditions at the Po Lin Monastery are both solemn and grand. Most notable is the public Buddha bathing ceremony, in which worshippers pour fragrant water on the Buddha statue. People also enjoy gathering to watch the Shaolin Kung Fu performances here, in addition to eating a 齋菜 (zaai1 coi3), or "vegetarian dish."
In temples all over Hong Kong, you'll find people burning incense in honor of their ancestors.
4. Why Do They Bathe the Buddha Statue?
As we mentioned, on Buddha's Birthday, Hong Kong temples perform the Buddha bathing ceremony. There are two main reasons they do this:
1. This is done to purify the mind with the help of Buddha's wisdom.
2. According to legend, when Buddha was born, nine dragons came from the sky and spat water to bathe him.
5. Must-Know Vocabulary for Buddha's Birthday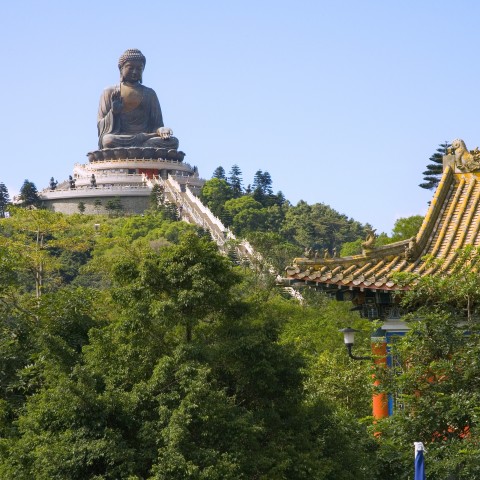 Ready to review some of the vocabulary words from this article? Here's a list of the most important words and phrases for Buddha's Birthday in Hong Kong!
佛教 (fat6 gaau3) — "Buddhism" [n.]
釋迦牟尼 (sik1 gaa1 mau4 nei4) — "Buddha" [n.]
天壇大佛 (tin1 taan4 daai6 fat6) — "Tian Tan Buddha"
佛誕 (fat6 daan3) — "Buddha's Birthday" [n.]
善信 (sin6 seon3) — "worshipper"
舍利子 (se3 lei6 zi2) — "relic" [n.]
佛堂 (fat6 tong4) — "temple" [n.]
慶典 (hing3 din2) — "celebration" [n.]
齋菜 (zaai1 coi3) — "vegetarian dish" [n.]
行善 (hang4 sin6) — "do good deeds" [v.]
To hear the pronunciation of each word, and to read them alongside relevant images, be sure to check out our Cantonese Buddha's Birthday vocabulary list!
Final Thoughts
We hope you enjoyed learning about the Birthday of the Buddha with us, and that you learned something new today.
What are the most important holidays in your country? Are any of them related to Buddhism? We look forward to hearing from you in the comments!
To discover even more about Cantonese culture and the language, we recommend that you read the following pages:
To continue learning about Hong Kong and the Cantonese language, create your free lifetime account on CantoneseClass101.com. With tons of fun and effective lessons for learners at every level, there's something for everyone! Start learning with us, and attain your goals in no time.