In Hong Kong, the Mid-Autumn Festival is an annual holiday that corresponds with the full moon, which represents unity. This is a time of family fun, fire games, mooncakes, and mythology!
In this article, you'll learn about the Mid-Autumn Festival story and how HongKongers celebrate this special evening today. You may be surprised how much cultural insight you can glean in studying this holiday—and understanding a country's culture is an essential step in mastering the language.
At CantoneseClass101.com, we hope to make this learning journey both fun and informative! So let's get started.
1. What is Mid-Autumn Festival in Hong Kong?
On the evening of Mid-Autumn Festival, the moon is very round, because it's a full moon. The full moon symbolizes reunion in Chinese culture, so families will gather together and admire the full moon while eating mooncake.
Now let's talk about the mythology of the Mid-Autumn Festival.
There was a time when there were ten suns, which overheated the mortal world. So the Emperor of Heaven sent HouYi, an archer, and his wife, Chang'e, to the mortal world. HouYi shot down the extra nine suns and relieved the suffering of the people.
To reward him, the Queen of Heaven gave him two immortal elixirs. On August 15, while HouYi was out, his apprentice forced Chang'e to surrender the elixir. Chang'e accidentally swallowed the elixir and floated to the moon.
2. When is Mid-Autumn Festival?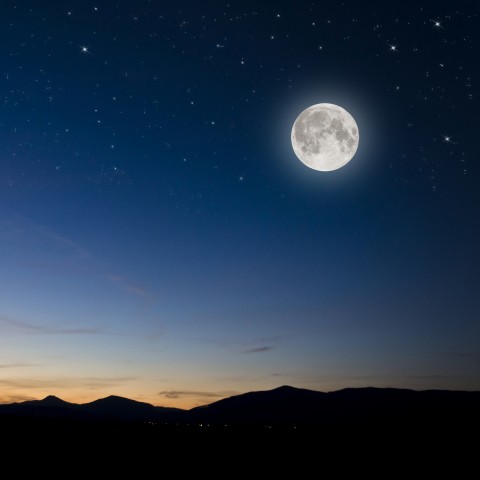 The date of the Mid-autumn Festival varies each year on the Gregorian calendar, as it takes place on the fifteenth day of the eighth lunar month. For your convenience, here's a list of this holiday's date for the next ten years on the Gregorian calendar.
2019: September 13
2020: October 1
2021: September 21
2022: September 10
2023: September 29
2024: September 17
2025: October 6
2026: September 25
2027: September 15
2028: October 3
3. Mid-Autumn Festival Celebrations & Traditions
In Hong Kong, the Mid-Autumn Festival public holiday is actually on the day after, so that everyone can get the most out of the celebrations of Mid-Autumn evening.
1- Playing with Fire: Mid-Autumn Festival Lanterns
On this evening, children carry lanterns in the shape of their favorite cartoon characters, and teenagers play with candles, or even burn wax. However, because of the high number of fire-related disasters and injuries, as well as the massive amount of leftover melted wax in public areas, the government has listed wax burning as illegal.
2- Mid-Autumn Festival Food: The Mooncake
The mooncake is a special food unique to the Mid-Autumn Festival. Have you ever tried it? A traditional mooncake is round like the moon, but has diversified in recent years for commercial purposes.
Other than the traditional lotus seed paste with egg yolk filling, snow-skin mooncake and other new flavor variants are also popular in Hong Kong. For example: abalone, swallow's nest, barbecued pork, and sesame. The snow-skin mooncake is a new style of mooncake that's served chilled. Please give it a try if you have a chance!
3- Fire Dragon Dance
Another custom of the Mid-Autumn Festival is the fire dragon dance. You can see a fire dragon dancing on the streets of Tai Hang in Causeway Bay three nights in a row. For the fire dragon dance, you may see some eye-catching Hong Kong Mid-Autumn Festival clothing! In 2011, this activity was listed as an Intangible Cultural Heritage by China, ensuring its continuation.
4. More Moon Mythology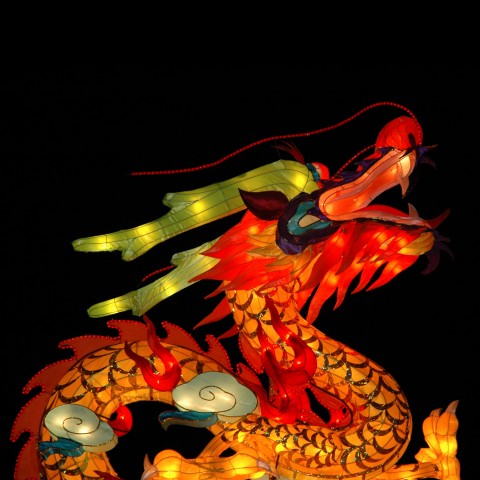 Do you know what kind of animal lives on the moon in Chinese mythology?
In Chinese mythology, the animal that lives the moon is a rabbit. We call it Moon Rabbit, and it keeps Chang'e company. Scientifically, the distribution of the light and dark areas of the moon's surface seems to create the image of a rabbit.
5. Vocabulary to Know for the Mid-Autumn Festival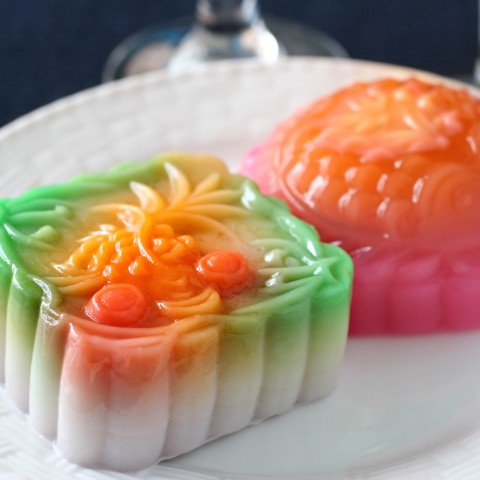 Here's some vocabulary you need to know for the Mid-autumn festival in Hong Kong!
中秋節 (zung1 cau1 zit3) — Mid-Autumn Festival
月餅 (jyut6 beng2) — mooncake
冰皮月餅 (bing1 pei2 jyut6 beng2) — snowy mooncake
月兔 (jyut6 tou3) — Moon rabbit
賞月 (soeng2 jyut2) — moon watching
蓮蓉 (lin4 jung4) — lotus seed paste
燈籠 (dang1 lung4) — lantern
后羿 (hau6 ngai6) — Houyi
滿月 (mun5 jyut2) — full moon
蛋黃 (daan6 wong2) — egg yolk
嫦娥 (soeng4 ngo4) — Chang'e
To hear each of these Cantonese vocabulary words pronounced, check out our Mid-Autumn Festival vocabulary list!
Conclusion
We hope you enjoyed learning about the Cantonese Mid-Autumn Festival with us! Let us know in the comments if you have any astrology-related holidays in your country, and how you celebrate. We look forward to hearing from you!
To continue learning about Cantonese culture and studying the language, explore CantoneseClass101.com. We provide an array of learning tools for every learner, at every level:
Insightful blog posts on a variety of cultural and language-related topics
Free vocabulary lists covering a range of topics and themes
Podcasts to improve your listening and pronunciation skills
Mobile apps so you can learn Cantonese anywhere, on your own time
Much, much more!
If you're interested in taking a more one-on-one approach to your language-learning, be sure to upgrade to Premium Plus. Doing so will give you access to your own personal Cantonese tutor who will help you develop a personalized plan based on your needs and goals. Yes, really!
Cantonese is one of the most difficult languages to learn, so we commend you for your effort and determination! At CantoneseClass101, we believe that you really can master the language—and we want to be here to help every step of the way!
Happy Mid-Autumn Festival! Enjoy some mooncakes for us. 😉